Blog
Stadium Makes Guinness World Record, Locals Have a Laugh
The city of Arad city has entered the world-famous Guinness World Records: A "diploma" mocking the management of the city was posted on the fence of the Ferenc Neumann Stadium.
It reads: "For the Mayor's Office of Arad for extending the construction time of the smallest possible stadium as much as they could." The inscription on the sign reflects the dissatisfaction of many locals related to the prolongation of the construction of the new stadium, which was supposed to open at the end on 2019. The rebuilding of the stadium with 12,000 seats began five and a half years ago.
The building that previously stood on the site was the old Ferenc Neumann Stadium, a multi-purpose building in Arad, Romania. It was used mostly for football matches and was home to FC UTA Arad, one of Romania's most successful club football teams. The stadium used to seat up to 7,287 people and was built in 1944, opening on September 1, 1946, with a match between UTA Arad and Ciocanul București; the former won 1–0.
At that time, the stadium was considered the most modern in the country. It was named after a local Jewish baron, Ferenc Neumann, who owned several businesses in Arad and who personally sponsored the construction of the stadium and the founding of the team. While studying in England, he had been a fan of the London-based football team Arsenal, hence the similar team colors.
In 2006, the stadium went through a major overhaul when the municipality invested over EUR 700,000 for new seats, structural repairs, new cloakrooms, an anti-doping control room, an emergency medical room, a VIP section, a new multimedia sector and a new sound system.
But then, in 2014, the stadium was demolished to make way for a new, modern stadium exclusively for football; it was expected to open by the end of 2019, but fans are still waiting. The new stadium will have a capacity of 12,000 seats and will also include offices, a press club and center, a V.I.P. hospitality area, a restaurant and even a hotel.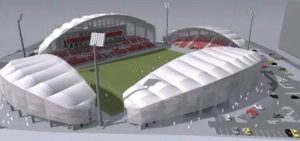 Photo:stadiumdb.com
If everything goes according to plan, the stadium could finally be delivered in August 2020. The total construction cost of the stadium will come in at around EUR 14 million.