Culture
Koszika: This is the time to journey inward
When concert/festival organizers in Transylvania are looking to provide the right mood, good-quality music and great vibes, Krisztina Koszorus (known as Koszika) is always among their first choices. Her solo concerts are a blast, and even when Koszika plays during an intermission at an event, you never leave the hall. The band she manages, Koszika & TheHotshots, is just as polychromatic as the lead singer, easily paddling through different genres and periods. Krisztina Koszorus is lead singer, violinist, vocal coach, TV anchor and band manager; yet, she still finds time in her crowded to-do list to be the passionate animal rescuer we all know. 
TN: Krisztina, we all miss having great events, shows and festivals this year, but surely not as much as you performers do. Our life has been turned upside down, but you are also the manager of a band. How have you handled the epidemic? 
Krisztina Koszorus: Well, it is a hard period for everybody, I think, but I am very fortunate and blessed with good spirits and will to make changes and make the impossible happen. I think good stuff happens in bad times. So after the first shock in March, we started working on new songs, I organized online concerts, we took part in online festivals, we even played an online private event for a corporation. Later on, from July to September, we had live concerts too, and it was beautiful meeting our audience again, although, because of the restrictions, there were considerably fewer people than we are used to. These are interesting times, not at all easy ones. 
But as with everything in life, there are two sides to this situation: less travel = less time "wasted" on the commute between two locations, less time wasted in your everyday life getting to unimportant meetings and so on. We've learned that the important stuff can be discussed in a video call or on the telephone, and really, sometimes there is just no need for that face-to-face meeting. And, of course: less money wasted on shopping, at least in our case. We have really learned how to get by with only the essential stuff; we cook and bake most of our food and haven't really bought clothes or anything less important in the last half a year, really.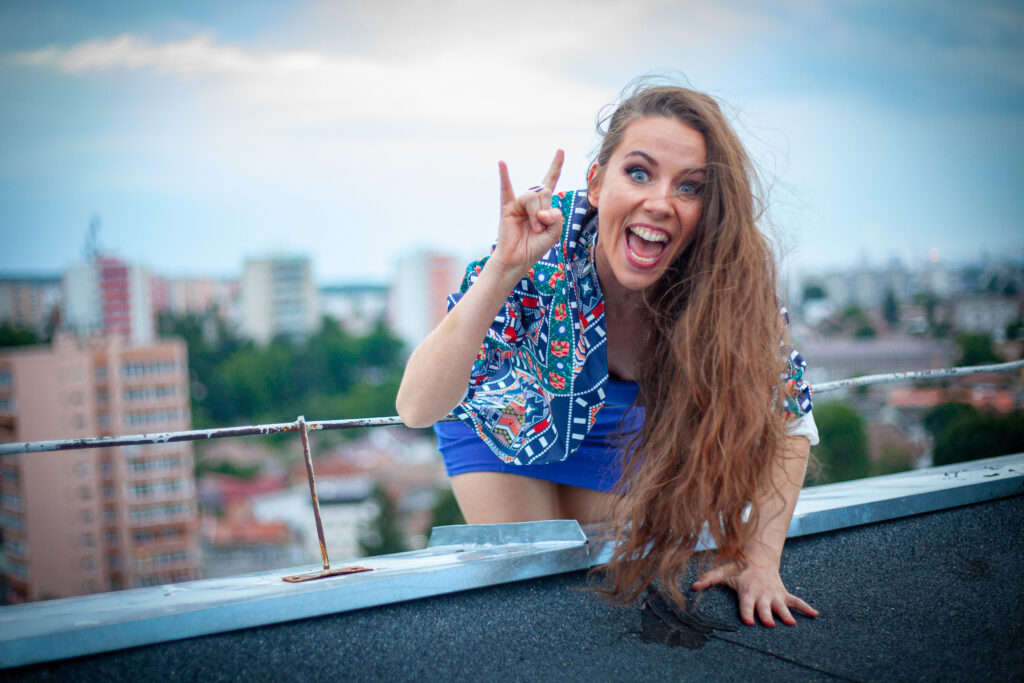 Photo by: Zoltán Rab
Being an active musician in normal times means that your summer is very crowded; you often have two, three or four concerts and events on a weekly basis that you need to attend, plus rehearsals and travel. We've had "kamikaze" weekends, where we traveled 2,000 kilometers by car to get from Câmpina JazzRock Festival to Budapest for Sziget Fesztivál and then back for another concert. That's a lot of time spent in a car, though I love traveling, but I would rather do it on my own time, at my own pace than rushing from one place to another just to make it to a concert.
So, the biggest present of this period has been the time we gained. Time to make the projects we always wanted to do, time to create, time to be together. I am actually more busy than ever, only at home, doing the things I've wanted to try or planning for the future.
TN: Funky fills and rhythms, jazzy-bluesy chords, spacey reggae, ethno-folk or even drum and bass influences or styles like funk, disco, reggae, jazz, bossa nova, pop and Koszika originals — all are part of the Koszika & The HotShots' eclectic sound. "Best served LIVE," says your Facebook page. And then the year 2020 came along. You have been part of several online projects and festivals this year. What was the feedback? How does Koszika sound online?
KK: Probably similar, but as we all know, the actual energy of live music, the volume, the other people around you, the whole audience moving with the music and the air puffing from the big speakers is what makes a live concert make you lose yourself in the music as a listener — and as a performer, too. So listening at home on low volume, trying to not disturb anyone, kind of listening but actually doing something else will probably never compare to the real experience, but hey, we take what we get.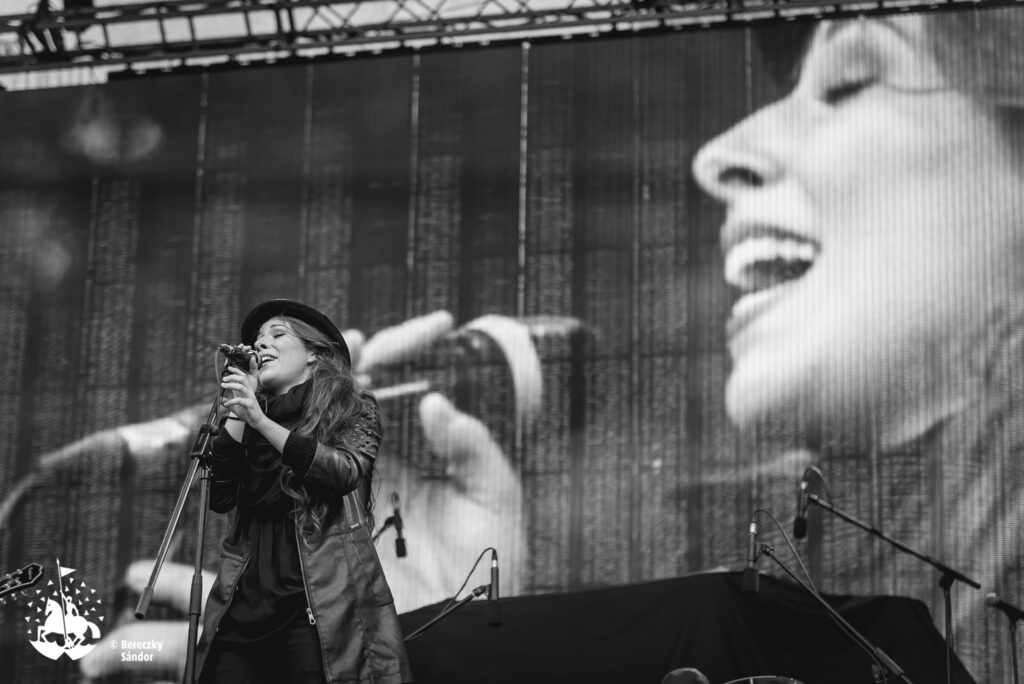 Photo: Bereczky Sándor
TN: You are equally at home when it comes to Hungarian, Romanian and Gypsy cultures and folk music. This is not an easy task at all, even if we all live in Transylvania, at the crossroads of these cultures. And then, there is jazz, the music of freedom and endless opportunities for improvisation, your favorite. What is your relationship to jazz?
KK: The first time I heard jazz and actually paid attention to it was when we entered high school and went on a long trip to the Netherlands with the school orchestra. My classmates were a little more ahead of me technologically speaking, so they had walkmans and computers and knew how to use torrents. So in one of the walkmans on the bus, there was this Diana Krall album, The Girl in the Other Room, and that had an enormous impact on me, I have never heard a woman sing like that before, and the instrumental bits were wow, too.
After that album came many others, Marcus Miller, Erykah Badu, Azzizah Mustafa, George Benson and all kinds of jazz artists, and I couldn't believe how vast and varied this music was! I was a rocker back then but always enjoyed all kinds of music. I loved the James Brown kind of funk and the more modern sounds like Justin Timberlake, and, of course, the folk stuff, which spoke to me on a whole other level. But finding out about jazz and later trying to take part in it was a huge thing in my life.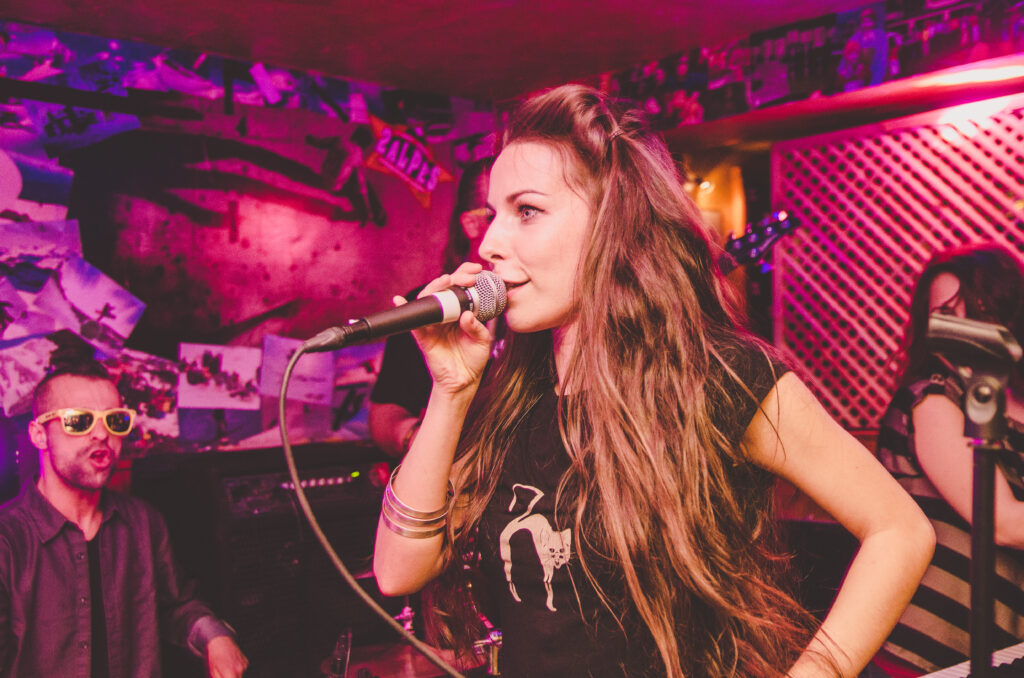 📷 Marius Maris
While still in high school, one of my friends and I made a guitar-voice duo, which then went on to grow into a full band. We started playing some folk tunes rearranged with bluesy, jazzy harmonies. Then I tried out jazz standards, blues songs, but I never got the gist of improvisation.
Later, when I met my actual partner and founded our duo and, later on, our band, we really got into jazz; we listened to it all day and all night, we met new people who were interested in it, we went to camps where we jammed a lot with our good friends and fellow musicians. I was in awe seeing people my age improvise at a very high level, and I started to feel that I needed to prove to myself that I can do it too. One time there was an open call for artists for this Student Jazz Festival. I decided I'm going to try out my luck. I had never improvised before and I knew I would not be able to go on like that in the contest, but I had no idea where to start. So I organized a rehearsal with the people who were going to accompany me in the contest and learned the songs that were mandatory (all of them pretty hard jazz tunes). So then the day of the rehearsal came, and I still hadn't improvised yet; we were playing the first song and the improvisation part was coming up… and instead of freezing up like I thought I would, I opened my mouth, and something came out. I improvised. I probably sucked at it, but I did it. The jury applauded me after every vocal solo I had and then awarded me with the Best Singer award. Since then, I've gotten more of those… 
TN: What about the genres that you would never sing? Do you follow the international lineup? What are your favorite international bands that you dream of working with? And what would be your dream venue for such a performance?
KK: I don't think there are genres I would never sing. As a musician, curiosity is your best friend, your biggest motivator, and your best advisor. So in order to be proficient, you need to know many styles. I don't say that bands with only one style and that break records with their sales and popularity aren't any good, but I think the best musicians are the ones that are able to renew over time and never lose their curiosity. Just look at Queen, one of the best bands of all time. We say they are rock, but are they really? They have so many different styles of songs, and even in just one song, they have so many different elements of different musical styles.
I never thought I would sing tangos, but when I did, we even got invited to Canada for international music festivals with the Tiberius String Quartet. So, never say never.
I do follow the international lineup, yes, I have many favorites in all genres. Starting with pop, I am in love with Ariana Grande and Billie Eilish; they are both amazing, I also love contemporary London's music scene, like Mahalia or Tom Misch. Lianne LaHavas, Anderson Paak, Cory Henry, Snarky Puppy, Vulfpeck, Scary Pockets just to name a few American names. I would love to play with all of these people, but I would probably totally freeze and be starstruck. But more close to home, I would love to play a concert with Beshodrom; I probably know all their songs by heart. And my current favorite, Mörk, a crazy good Hungarian band everybody needs to check out. But I would play with anyone who has a good idea and I enjoy their vibe and can see myself in their songs.
Dream venue: I would love to play in a fancy, beautiful hall, like Royal Albert Hall or Carnegie Hall, and feel its vibe, hear its acoustics; but I mostly want to have small friendly concerts in remote places like in a forest in Bali, or near a mountain top, although this dream kind of came true already since we've played three times in the French Alps at SnowFest.
TN: You write most of your lyrics, which are often filled with social criticism. You talk about important principles, feelings, dreams and fears. You freshly reflect on this year's situation in your new music video "Otthon ülni jó/Staying at home is fine." What was this year, which is slowly coming to an end, good for in your opinion? 
Well, obviously staying home, lol. But seriously, I cannot speak for anybody else, but as a creative person, a creator of something, this time was pretty okay to do that, to create and one other important thing: make new relationships. Even though we are physically distant, we don't need to be emotionally distant.
TN: The shooting of the video must have been a blast. It looks like you just needed an excuse to party with friends in an amazing, colorful set, so pleasing to the eye. Partying at home, partying inside of your mind, partying when life gets rough, do I understand correctly that this is what we all could/should do to be able to get through this uncertain and tough time? 
KK: Yes and no. It is not necessarily about partying, but that is what I see people miss the most: social gatherings. We definitely color our everyday life with our imagination. I often see how my mood depends on my imagination. 
This song ("Otthon ülni jó/Staying at home is fine") can be an aid for those who are stuck at home and need an uplifting, feel-good song to ease their minds or need reassurance that it's not so bad. It can be seen as sarcastic too or an "anthem" for those who didn't get to travel on a vacation this year, or it's just a reminder that home is firstly in ourselves. We need to make it cozy for ourselves to keep coming back.
TN. You are known for being a source of positive energy and vibes. How do you recharge? 
KK: I don't. No, I'm kidding: I enjoy long walks, reading, watching comedies, series, being with my family, petting my cats, rescuing animals, playing board games or ancient strategy games on my computer, you know the ones that are still in 2D. I would say listening to music, too, but that's more like work for me; it puts the wheels in motion in my mind. I mostly enjoy active relaxation. I used to do yoga, and I sometimes try to meditate, with more or less success… I wish we did more hikes, but I am grateful for my garden, which is my little "nature corner."
Featured photo: Éva Papp