History
Intact 17th century crypt found in Transylvanian church
A sensational discovery was made on the 30th of September in the town of Bánffyhunyad (Huedin, Heynod): In a Reformed church built in the Middle Ages, archaeologists have unearthed an unopened crypt with findings that date back to the 17th century, the first discovery of its kind in over a century.
The Reformed congregation of Bánffyhunyad had applied for European funding to restore their church, which is a building of great historical value. Their tender was successful, and the EU granted nearly EUR 2 million for the complete renovation.
Archaeological explorations began a week ago. The leader of the research team, Zsolt Csók (an archaeologist at the National History Museum of Transylvania), told TN that first they found a collapsed crypt in the sanctuary that had already been opened a long time ago.
After clearing out this underground chamber, they continued the exploration and came across yet another crypt, which appeared to be sealed and untouched. After they carefully removed a few bricks from the vault, their assumption proved to be right: This crypt had never been opened since the burial of the people whose remains were found inside.
Out of the four coffins inside the crypt, two were adult-sized ones and the other two were made for children. On Monday, Csók opened the first small coffin containing the remains of a child, who was at most three or four years of age. The coffin was studded with 200 small silver pieces and bore the inscription Bánffy K., the family name and first-name initial of the deceased child. She was a little girl, dressed in a green silk dress. Csók recounted that the girl wore on her head a coronet made of brocade (a thick silk fabric with a prominent pattern) beautifully braided and decorated with lace that was interwoven with silver thread. At the funeral, aromatic plants were wrapped in her clothes – the lead archaeologist clearly identified one as rosemary.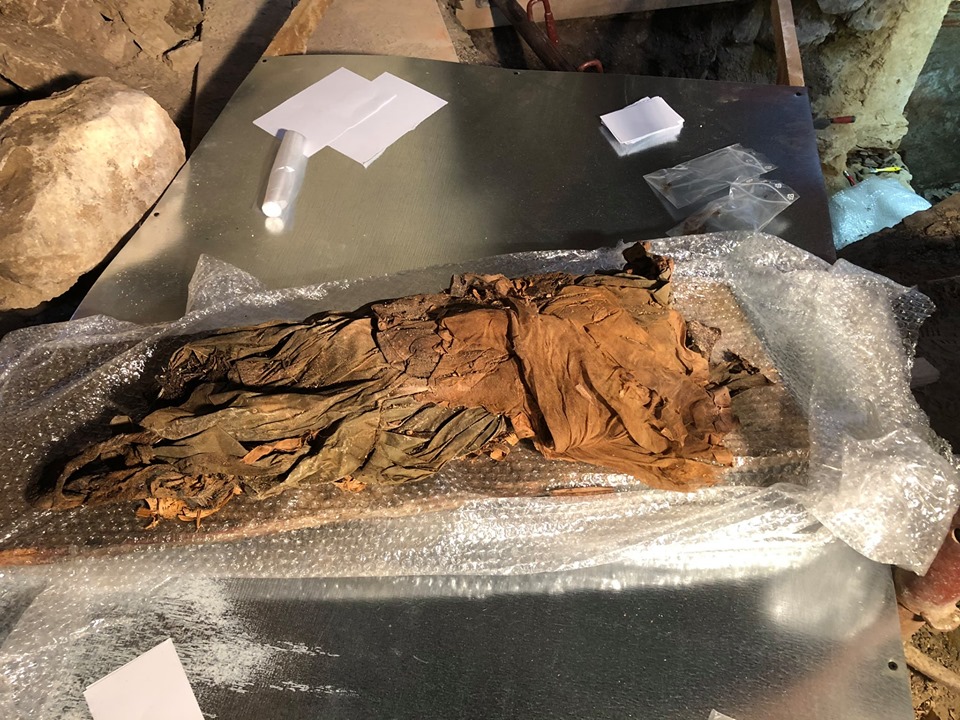 One of the child-sized coffins held the remains of a little girl, wearing a beautiful dress.
Photo: Csók Zsolt/Facebook
A prominent Transylvanian aristocratic family, the Bánffys had been important landowners since the 15th century in Bánffyhunyad and the surrounding region of Kalotaszeg (Călata). The inscription on the child's coffin suggests that there might have been Bánffy family members buried inside the crypt; however, archives will have to be researched to properly identify them. The other coffins will also be opened soon; any human remains will be carefully handled and transported to the History Museum so that they can be preserved and studied.
Title image: Such a sealed crypt has not been found in Transylvania in the past 120 years.

Photo: Kiss Gábor/reformatus.ro