Education
Half of the students from Hargita County failed the graduation exam
The marks earned by students on their graduation exams, taken at the end of high school in Romania, were published on Monday. On a national level, 67.8 percent of the students who took the exams last week passed, which is 5 percent higher than last year. However, the passing rate in the Szekler region is below the national rate, and Hargita (Harghita in Romanian) County had the lowest rate in the entire country, Hungarian newspaper Székelyhon reports.
In Hargita County, 51.6 percent of graduates this year and last year managed to pass their exams; no student received a top mark – 10 – this year, István Sipos, the vice-president of the Hargita County Baccalaureate Committee, told Székelyhon. According to the press release of the county school inspectorate, 56.4 percent of students graduating this year have passed the exam, while 21.25 percent of students from previous years passed. Compared to last year, the passing rate was 4 percent higher in the county.
This year, 63.8 percent of the graduates in Maros (Mureș) County passed the final exams, 4 percent more than last year. Out of this year's graduates, 70.1 percent of the students managed to take the exams successfully. A graduate of Unirea High School in Marosvásárhely (Târgu Mureș) was the only student who managed to get a 10 on the exams in the Szekler region.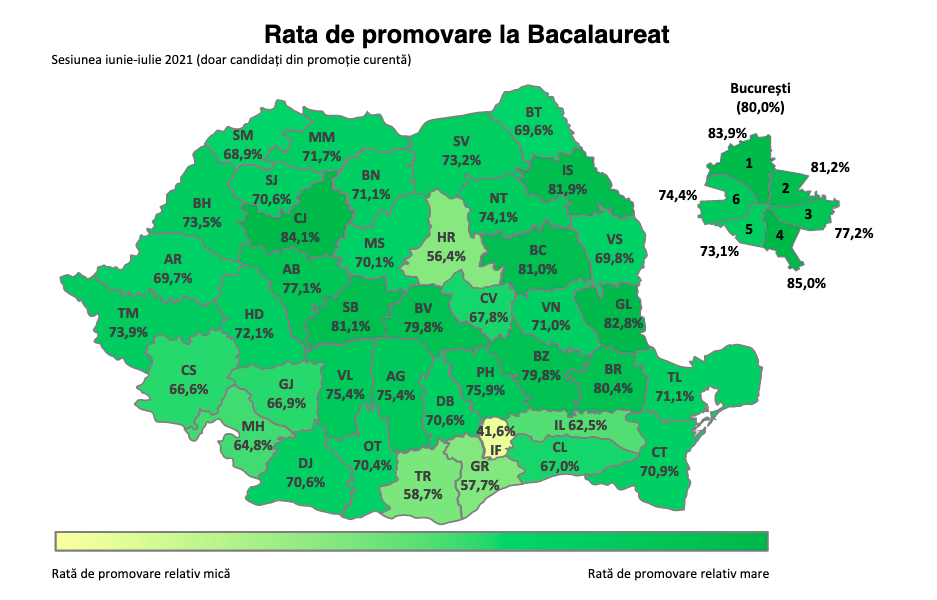 In Kovászna (Covasna) County, 61.72 percent of those attending the exams managed to pass, slightly more than last year (60.89). As Imre Kiss, school inspectorate of Kovászna County, told Székelyhon, 67.78 percent of this year's graduates passed the Baccalaureate.
In order to pass the graduation exams, a student must achieve a five on each exam (the top mark being a 10), and the average of their marks must be above 6. While Romanian students have to take three exams – Romanian language and literature, plus one obligatory and one optional subject depending on the type of class the student is enrolled in – Hungarian and other minority students, enrolled in minority language schools, must take four exams: Minority language and literature, Romanian language and literature, plus obligatory and optional subjects. Most Hungarian students have difficulty with the Romanian language and literature; a significant number of them did not pass it this year. For example, in Kovászna County, 211 out of the 346 Hungarian students who failed the exams – so 61 percent – did not pass the Romanian language and literature exam, while they got marks higher than 5 in other subjects. The rate of those failing the Romanian exam enrolled in Romanian language schools was 5 percent, Imre Kiss told Szákelyhon.
Despite the fact that minority students have to prepare for four exams, the European Court of Human Rights has decided that the Romanian graduation exams do not discriminate against Hungarian students.
Title image: Percentage of passing grades (5 and above) per county, taking into account only this year's graduates. Source: maszol.ro