Crime
German teenagers held as slaves in Máramaros County
Eight persons were arrested in Máramaros/Maramureș County on charges of bringing German teenagers aged between 12 and 18 to Transylvania for a reeducation program, which in reality was a pretext for holding them as slaves and using them for excessive labor, Romanian investigators have found.
Prosecutors of the Directorate for Investigating Organized Crime and Terrorism (DIICOT) are investigating an organized crime group from Felsővisó/Vișeu de Sus and Leordina, Máramaros County for human trafficking and illegal deprivation of liberty. According to the DIICOT press release, the "reeducation program" called "Projekt Maramureș" was conceived by a German couple (husband and wife) with the intention of creating a human trafficking crime group masked under the social program.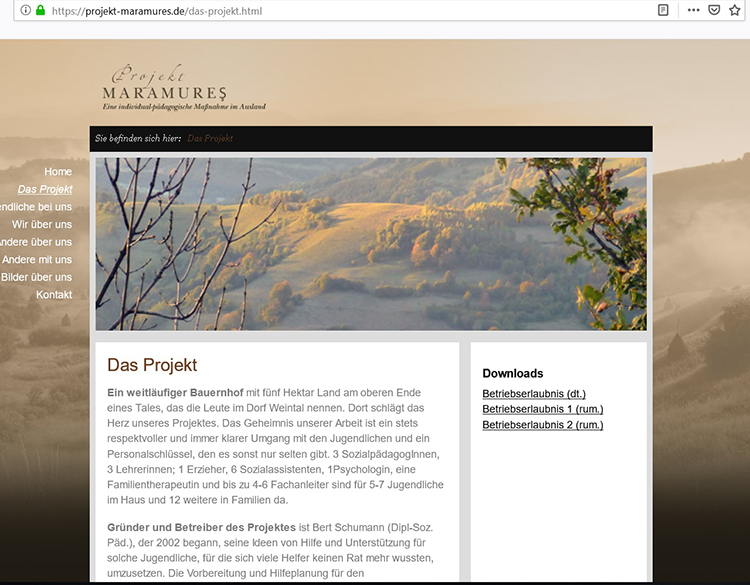 Screenshot of the "project" website
What really happened is that the teenagers were brought to Máramaros and forced to do hard labor in local households. They were threatened, humiliated, beaten, and held in conditions akin to slavery, the DIICOT investigators claim.
The repeated physical aggression, hunger and lack of freedom – they couldn't contact their family members or other people except the members of the crime group – created a state of fear and even trauma among the youngsters participating in the "reeducation program." Some even developed suicidal tendencies, according to the press release.
On the official website of the program, the organizers provide information about a variety of recreational activities that aim to help youngsters in need, in beautiful scenery, combined with multidisciplinary education based on special pedagogical and psychological techniques.
The crime group obtained financing from the German government, after securing legal authorization for an education program that seeks to foster the recovery and reintegration into society of German teenagers with severe behavioral problems. The money obtained from the German government was routed through an association from Nagybánya/Baia Mare, which played only a formal role in the whole plan. Of course, the (unspecified) amount ended in the pockets of the organizers.
The investigators have identified some of the youngsters, who were transferred to the Máramaros County Child Protective Services. The case was taken over by the national directorate, as the local team claims it doesn't have the technical capacity to finalize the investigation and uncover the truth.
Editor's note: The lack of technical capacity certainly sounds true, as the recruitment website of the "project" was still online at the time of writing this article.
Title image: Pixabay.com