Economy
Ethnic and economic inequities in Szeklerland
In terms of ethnic relations, Hungarians are significantly underrepresented in all types of decentralized institutions, especially in the field of defense (zero percent), in domestic affairs (approximately 10 percent), and in the prefecture – i.e. county administration – (15–20 percent), István Gergő Székely, the research director of the Szeklerland Policy Institute (SZKI) said. Romanian employees in comparable positions of the public sector have higher salaries, too, he added.
Székely has analyzed the assets declarations of 5,002 public-sector employees in Kovászna/Covasna County.
"While Hungarians are present at the lower end of the salary charts, earning as much as two or three times the average salary, the top of the salary charts are dominated by Romanians," Székely said during his presentation held at the conference organized by the SZKI in Sepsiszentgyörgy/Sfântu Gheorghe on July 9.
While Romanians have a significant monetary advantage (they are getting much higher salaries; hence they get access more easily to bank loans than their Hungarian counterparts), Hungarians have a minor advantage when it comes property ownership, Székely added.
The social position of Transylvanian Hungarians is constantly deteriorating, and this is also reflected in income, Zsombor Csata, researcher at the MTA Institute for Minority Studies and teacher of the Babeș-Bolyai University said. In his presentation on the assessment declarations of public sector employees in Marosvásárhely/Târgu Mureș, he highlighted the inequlities noticed in this area: although the city's Hungarian population accounts for close to 50% of the total, less than 20% of the top positions in the public sector are occupied by Hungarians. This means that Hungarians based in Marosvásárhely have two or three times less chance compared to their Romanian counterparts to successfully enter the leading position of a public institution.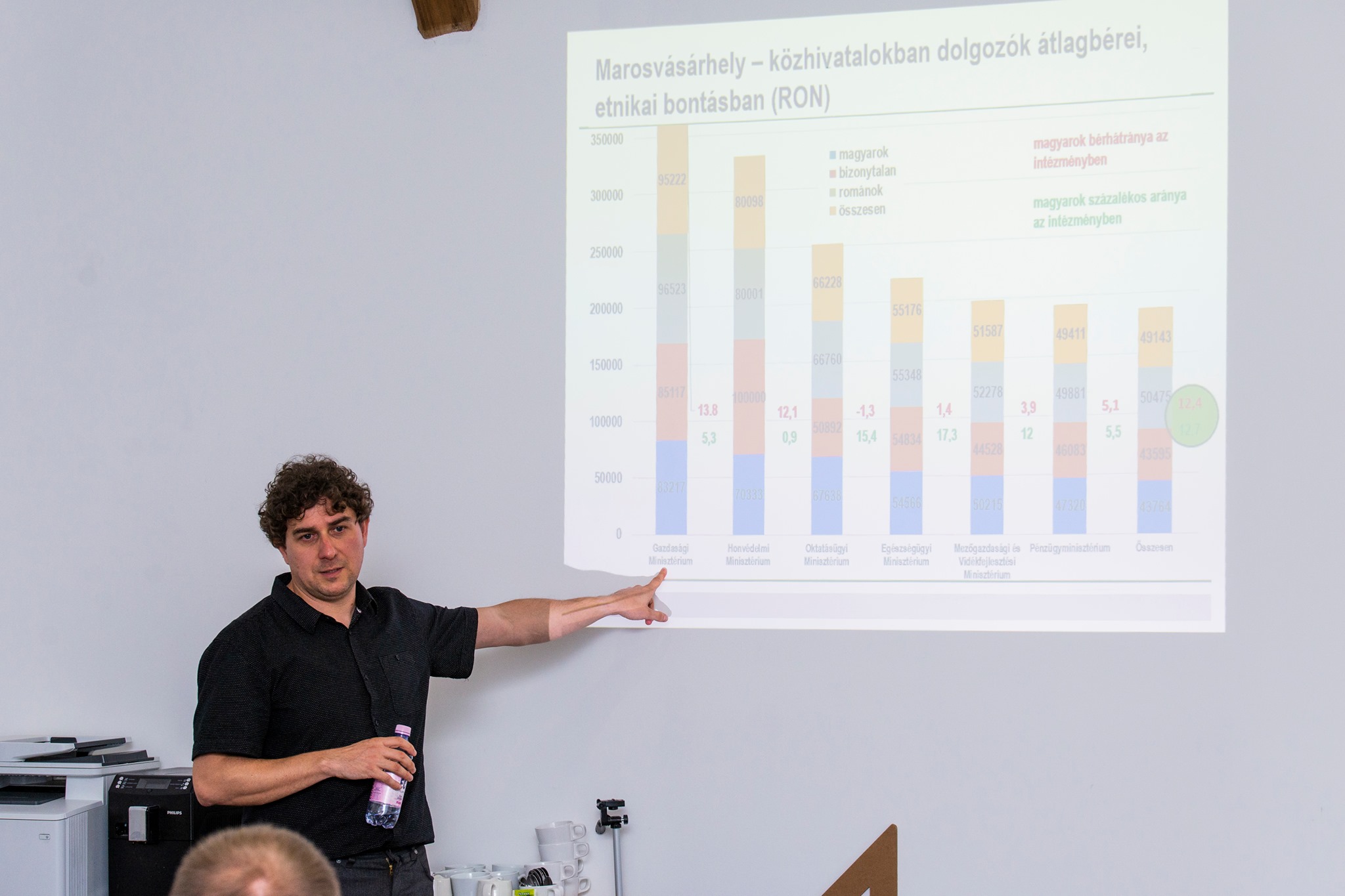 Csata also highlighted an interesting fact that he noticed while analyzing the assessment declarations: Hungarians are ahead in public institutions where the average salary is much lower compared to other institutions in the public sector, such as cultural institutions, social services, and education. This explains why Hungarians receive at least 15% lower salaries than their Romanian counterparts working in the public sector.
Title image: István Gergő Székely presenting his research