Coronavirus
Crisis speculation: Restaurants ask for a "COVID-19 tax"
Some restaurants are taking advantage of the current coronavirus crisis and mandated social distancing by asking customers to pay the so-called "COVID 19 tax." The inspiration behind their move came from dentists, who applied such a tax during part of the emergency period.
Restaurant owners say that this new "tax" was introduced for compensating them for money lost and costs incurred due to the social distancing required in restaurants. One representative stated that "other restaurants and dentists did it as well, adding that the tax "can be considered a commercial cost as all the rest, the price of a service."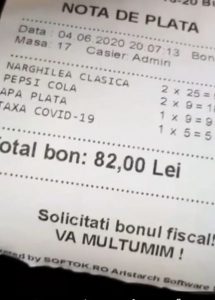 "Of course, the tax is communicated to the client at the beginning and not thrown in at the end without his consent," the representative said.
The first to impose this tax were dentists. The fees of the clinics that were treating patients during the state of emergency increased between RON 150 and RON 1,000 because of the restrictive measures imposed by the authorities. After the clinics and dentist offices were closed, the ones that agreed to deal with emergency cases, as specified by the Military Ordinance nr. 2, were forced to comply with some regulations that increased the cost of a procedure by up to 1,000 RON, which was paid by clients. Dentists say that the requirements they were forced to comply with are exaggerated and have no legal basis.
Photos: economica.net