Economy
Cooperative competition between Szeklerland cities essential
Cooperative competition between cities in Szeklerland is essential, because the ultimate goals are common, according to László Geréb, economist, college professor, and president of the REGA Regional Research Association.
In an interview with Krónika, Geréb highlighted the ever-present competition for limited resources, goods and services, a pattern that applies to all cities, villages, and other settlements in Székelyföld. What could change this destructive course of events and bring benefits to the whole region is cooperative competition. This means partnerships in which settlements and townships consider each other complementing partners and not competitors, the economist says.
From a European perspective the Szeklerland region is peripheral, as cities in more developed countries, or even bigger Romanian cities, take away the professional workforce from this area. On the other hand, Szeklerland is a polycentric region, and the cities – due to their size – aren't "visible" from the West. They are seen as a whole, gathered under the Szeklerland umbrella, not specifically as Sepsiszentgyörgy/Sfântu Gheorghe, Csíkszereda/Miercurea-Ciuc, or Udvarhely/Odorheiu Secuiesc, the economist highlights.
While competition is unavoidable, in a minority environment cooperative competition is essential: "gain advantages but do not hold others back; otherwise, this will threaten the life of Szeklerland," Geréb says.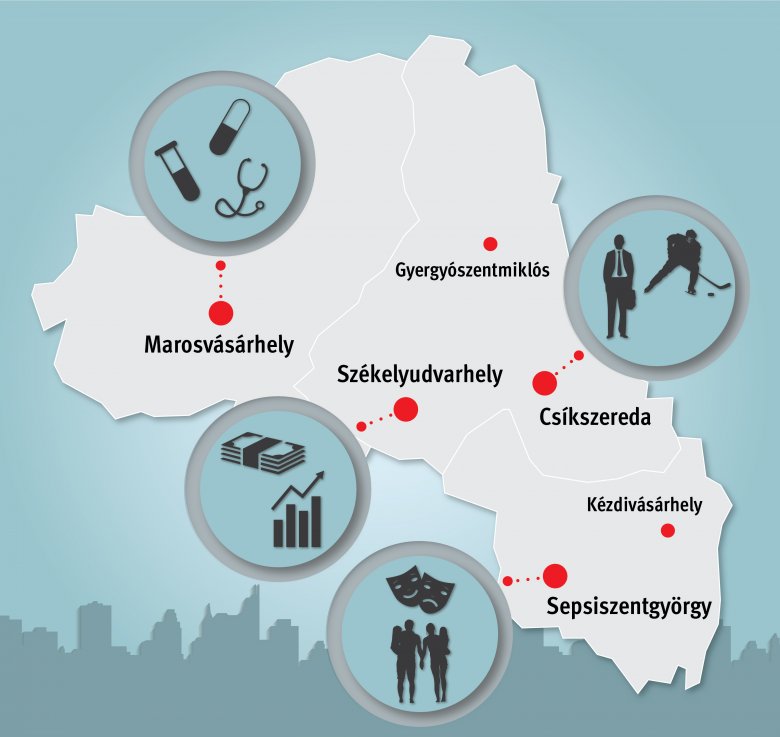 City leaders seem to agree with the economist, and experts say the roles are under development. For example, Sepsiszentgyörgy is nurturing the image of a cultural city and defines itself as the cultural capital of Szeklerland. Csíkszereda became a strong administrative center because it hosts the Consulate General of Hungary, the Szeklerland Hockey Academy, the Szeklerland Football Academy, and the Sapientia EMT University. Statistics show that Székelyudvarhely has emerged as an economic center, while Gyergyószentmiklós/Gheorgheni and Kézdivásárhely/Târgu Secuiesc are still looking to define and/or position themselves.
Marosvásárhely/Târgu Mureș is a different chapter because of the transformation it went through: ethnic Romanians now account for more than half of the city's population, and it has become a multicultural environment, which affects how people identify themselves and define their identity, according to the economist. Sándor Csegzi, counsel of Marosvásárhely city mayor Dorin Florea, says there are efforts to work toward a vision of a sustainable city. According to his view the near-equal percentage of ethnic Hungarians and Romanians in the city accentuates political questions. "Politicians should be more thoughtful about this situation; hence it doesn't really matter whether the Hungarian or Romanian side is blocking an initiative, because it is bad for everyone. Supporting them instead would be in the best interests of everyone," Csegzi says.