Adventure
Below the frozen Red Lake
The mountain lakes of Hargita (Harghita county in Romanian), such as the Red Lake or the Saint Anna Lake, are very unique in Europe, therefore they are analyzed by several researchers, including Dr. Péter Hantz, a researcher at the University of Pécs. Recently, a team led by Hantz, photographed the depths of the Saint Anna and Red Lakes and collected mud samples to be further analyzed (read more about the story here). Then, several weeks ago, the researcher went back to the now frozen Red Lake and dived under the ice, hoping he could take amazing pictures to draw the attention of international geography magazines to the unique treasures of Szeklerland.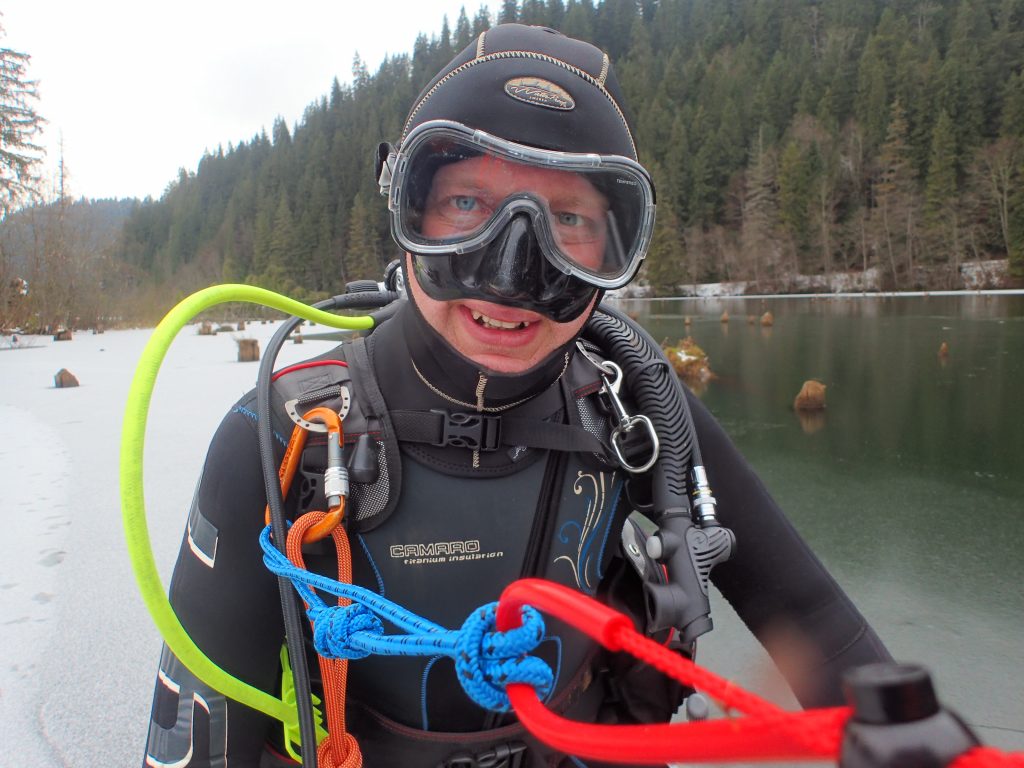 "Choosing the Red Lake was obvious: It's the only dam lake in Europe where the rest of the forest is still visible. The lake is a treasure which, in my opinion, is not appreciated enough, and it is not as known as it deserves. If we do not implement some conservation work, most of the stubs will disappear in about twenty years. We wanted to present the underwater world in order to capture the attention of international public opinion. Investigating and preserving the lake would require external resources," the researcher told TransylvaniaNOW when we asked him why they chose to examine Red Lake and Saint Anna Lake, the only volcanic lake of the region.
The researcher told TransylvaniaNOW that not only Red Lake, but Saint Anna Lake is in danger as well. "Saint Anna Lake has a worryingly high planktonic eutrophication, and its water level is scarily low, about six meters, while the mud at the bottom could have a depth of about another six meters," he said.
Dr. Hantz added, besides analyzing the lake, they were asked to monitor it as well. But they also do metagenomics research in order to find out if the mud at the bottom of the lake could be used for medical purposes. "Although it's almost sure that the answer is "yes", and removing some mud would be beneficial in preserving the lake, bureaucratic obstacles hinder us to develop a novel, Szekler medical mud brand," he said.
He also added that he would be glad to analyze more lakes if he had the necessary resources. "I'm sure each of them could serve up some surprises," he said.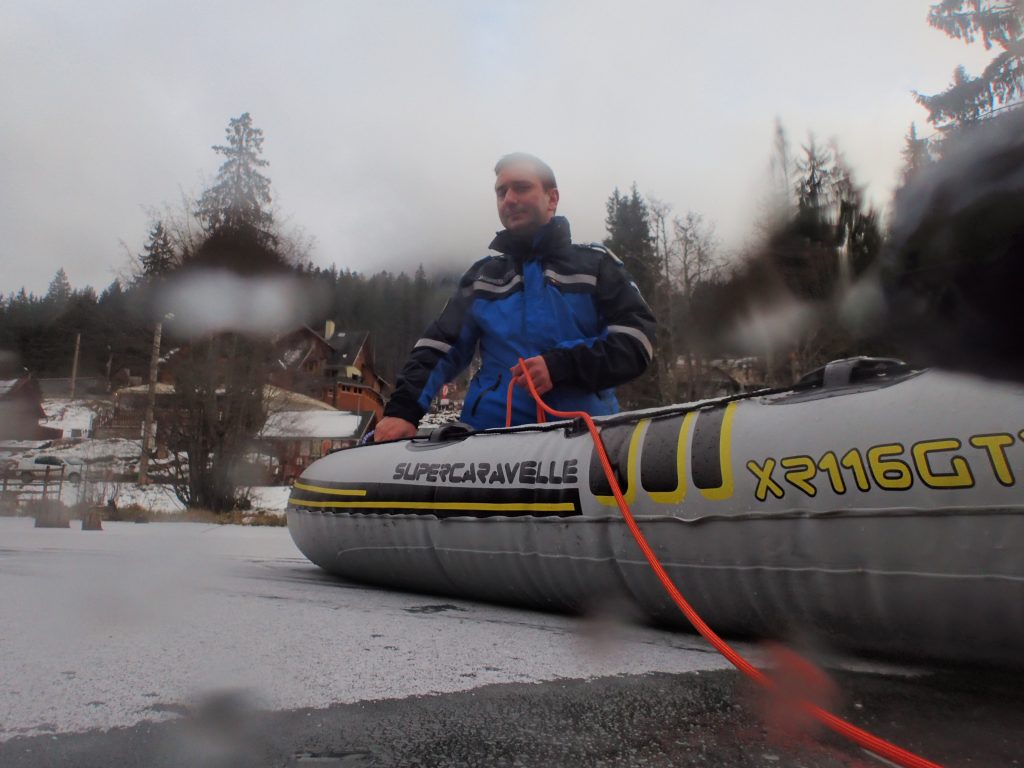 Dr. Hantz mentioned the purpose of the second dive in the Red Lake: He wanted to take interesting pictures of it in order to attract teams of prestigious geography magazines, which would raise the attention towards the lakes. "I intended to take a series of interesting pictures. The lake in the winter is more clear than in summer. Unfortunately, it was not as clear as I expected," he said.
We also asked the researcher if diving in a frozen lake is dangerous. He said, everything can be done in a safe or in a dangerous way, not only diving, but biking or driving a car. "I am diving because it's required for the mentioned tasks of common interest; I need it for my scientific work. And last but not least: I enjoy it. If I decide to do any action in a technical sport like diving or flying, I am positive I could conduct it under harsher conditions as well. I always work with a lot of reserve. Sometimes I break certain rules, but I am mastering these sports to such an extent to afford some digressions while still remaining on the safe side," he said.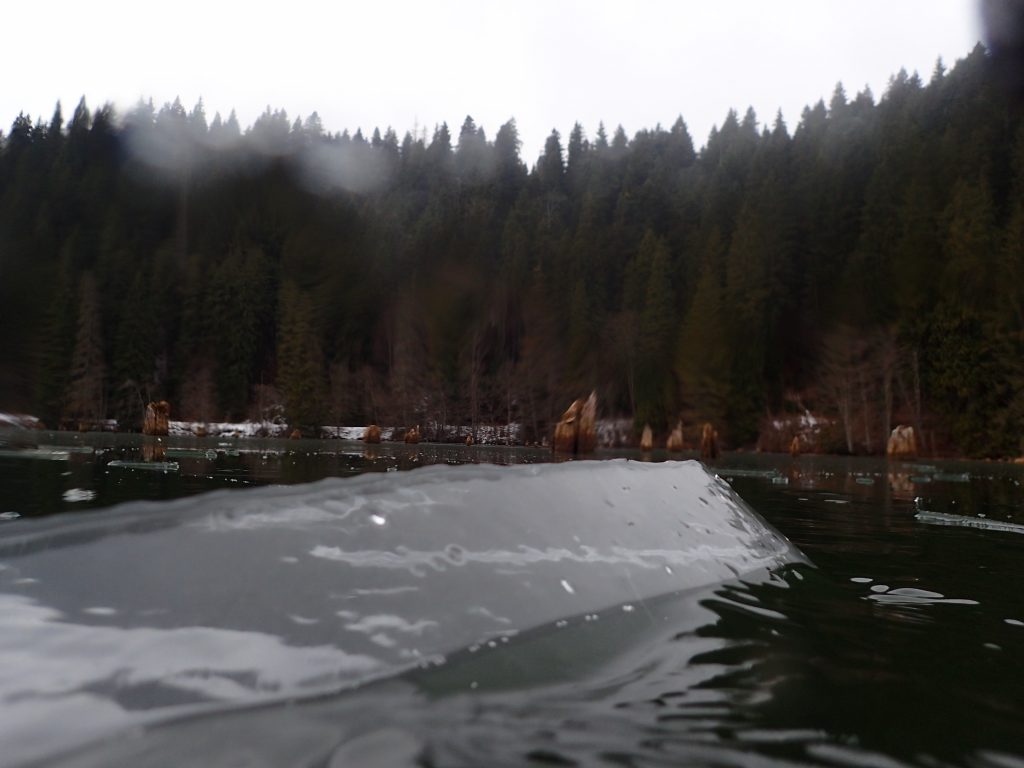 But he also mentioned some necessary precautions. "You have to study the location in advance; if possible, speak to local experts. Have the right skills and competence; have good physical and mental conditions and appropriate equipment. Theoretically you always need a buddy (another diver) for diving. When diving under extensive ice, I always use a security rope. If the visibility is reduced, further security measures are required," he said.
Dr. Hantz told TransylvaniaNOW diving in Red Lake is fantastic – like being in an enchanted, magical world. "It was my childhood dream to dive in the underwater forest of Red Lake," he said.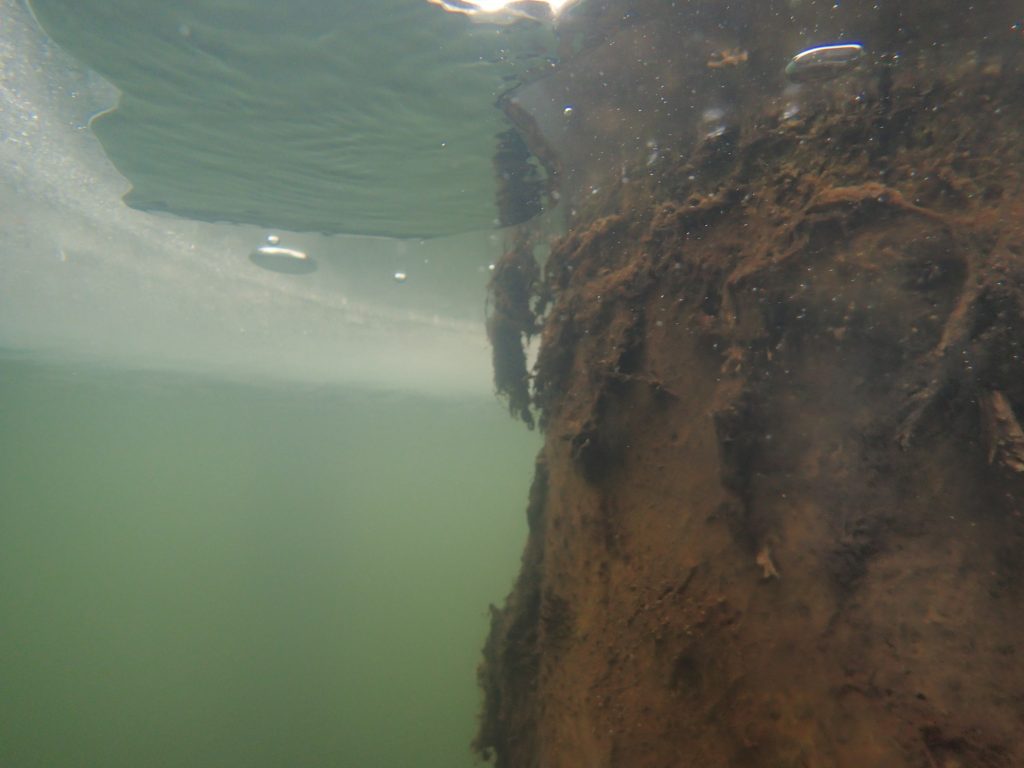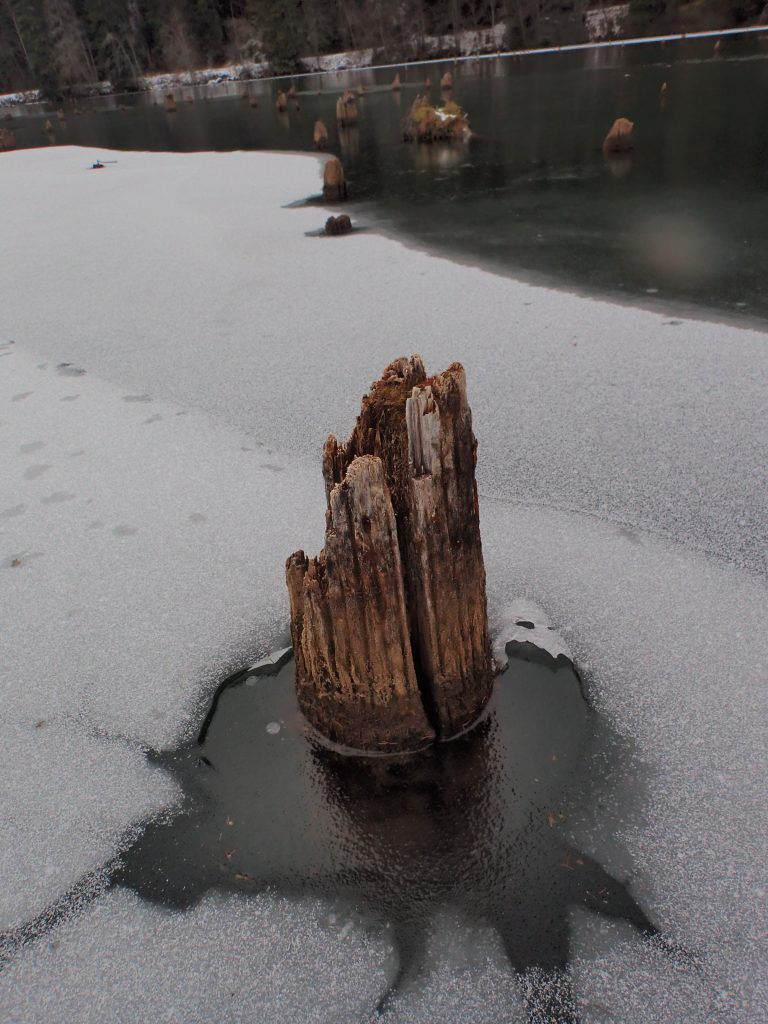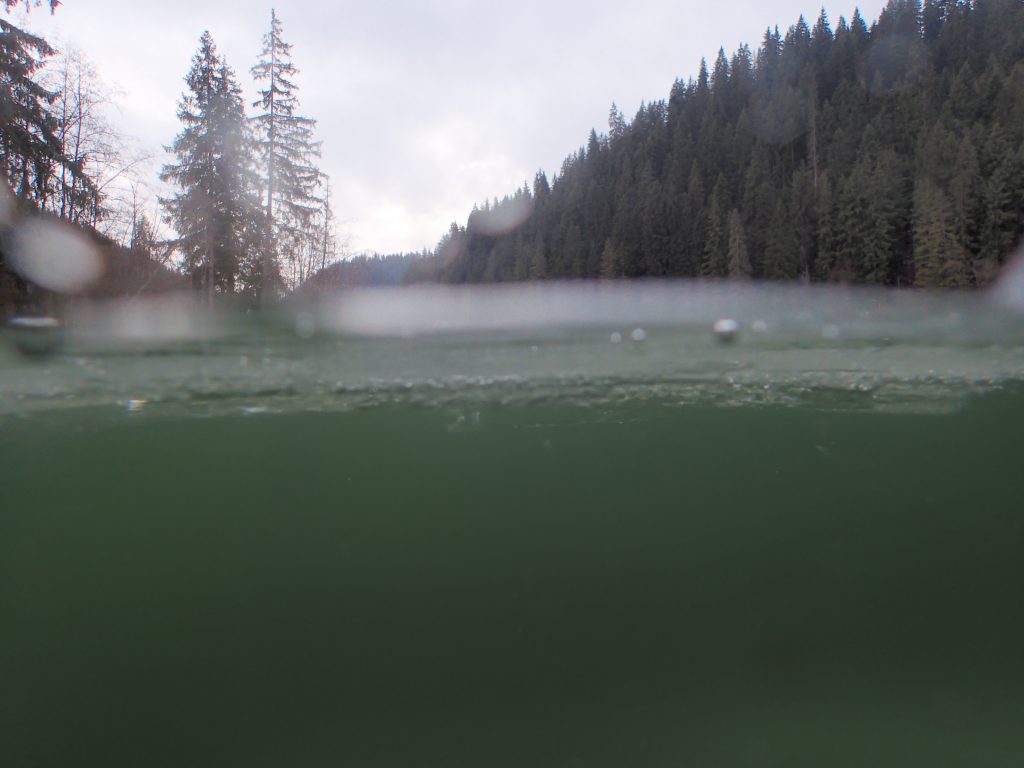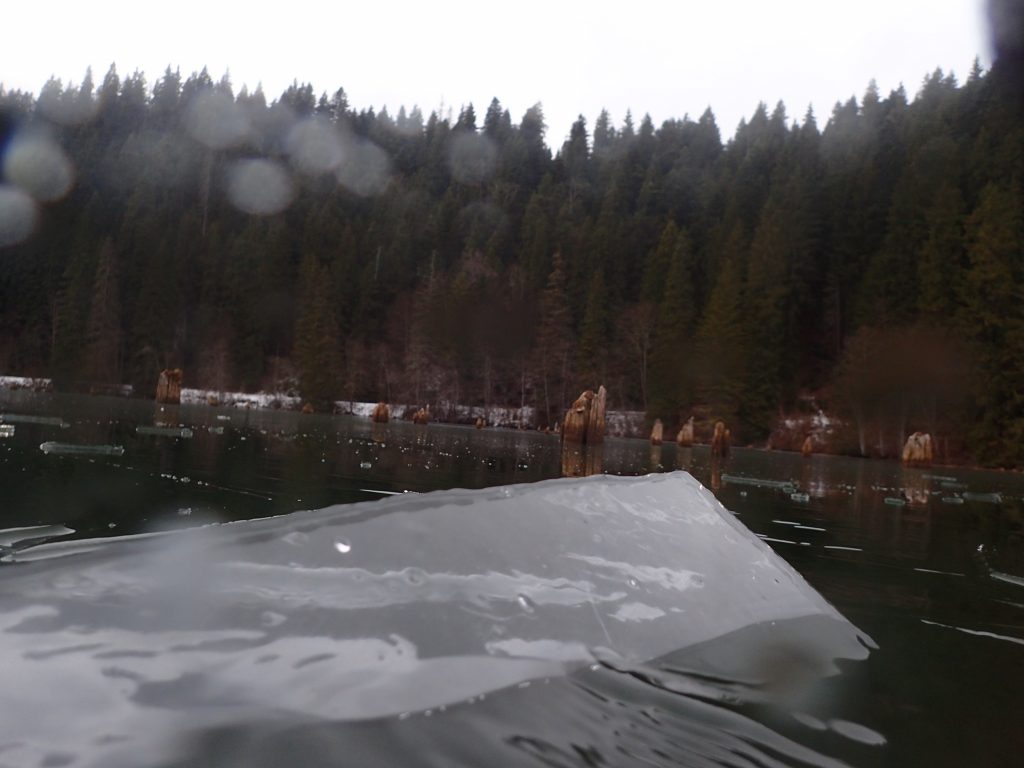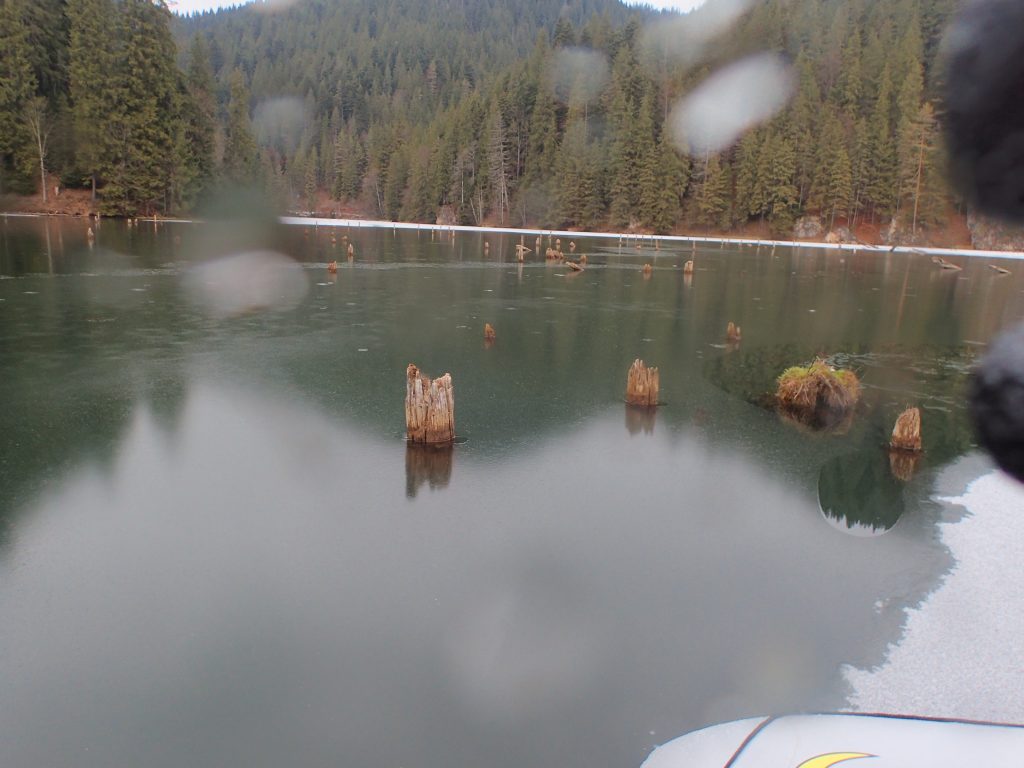 Photos: Dr. Péter Hantz
Related: Red Lake, the lake of the flooded pine forest