Arts, Food & Free Time
Beginner's guide to Transylvania – VI.
Goulashes of Transylvania
Goulash is one of the most popular Hungarian dishes. This beef-based food with a wide selection of vegetables is filling and rich and while basically a soup, due its richness it does a pretty good job of being a main dish. While the traditional Hungarian Goulash is not commonplace in Transylvania, they also have a series of similar dishes that are just as tasty and plentiful.
Pityókástokány – potato stew soup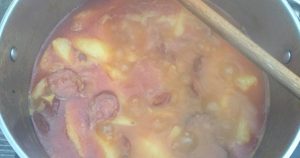 The Szeklers have got their own, simpler goulash, called pityókástokány or potato stew soup. It is, similar to the goulash, a beef, pork, rarely chichen or sausage based soup, but instead of vegetables it is made with a lot of potato and even more smoked, sweet paprika. The pityókástokány is often cooked in cauldron above fire, the base of the food is the stew, which is complemented with boiled potatos (boiled in the sauce of the stew and water) and sweet, smoked paprika. The pityókástokány is one of the most important element of Transylvanian festives, it is served at every little gathering, especially in the Szeklerland, because it is very easy to make, very delicious and also rich.
The goulash of the Szeklers or székelygulyás (see title image)

The székelygulyás is also a beef or pork based food, but in this case, instead of potato, the stew is mixed together with pickled cabbage and served with sour cream. The name Székelygulyás can be translated as the goulash of Szeklers, but curiously, it is a possibility that this soup has nothing to do with Szeklers. According to the professional cooks the name of the food is related to the Hungarian poet and key member of the Hungarian Revolution of 1848, Petőfi Sándor, and his friend, Székely József (Joseph Szekler) archivist. As it happened once, the poet and his friend visited a restaurant in a late our, which was out of normal, full dishez. Székely József suggested the cook to mix together the rest of the cabbage with the rest of the stew. This delicious mix impressed Petőfi Sándor, who visited the restaurant the following day as well, asking for Székely cabbage or Székely goulash.
Potato or been soup with tarragon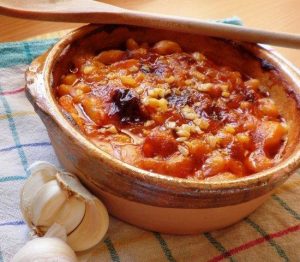 If we are speaking of Transylvanian "goulashes" or soups we must mention the traditional potato or been soup with tarragon. The best tarragon soups are made also on cauldron, in this case the base of the soup is the boiled smoked trotters or ribs, mixed together with beens or potato, smoked, sweet paprikam and of course a lot of tarragon – i prefer the vinegary tarragon. The dish is often served with sour cream and red onion.