Issues
Bear chases skier down slope
Saturday was a very exciting but also very dangerous day for one skier at the Predeal ski resort: He was chased down the slope by a bear. "Hurry and don't look back, a bear is chasing you!" a tourist on the chairlift warned the skier, who was luckily not frightened and managed to escape the big game, Hungarian news portal főtér.ro reports.
The people on the ski lift kept shouting at the skier to hurry and not look back, as the bear was running after him; they even tried to scare off the animal but with no luck (video of the incident). However, the young man was not frightened and even threw down his backpack, knowing it would distract the big game. The animal then stopped at the backpack—it may have been looking for food—and discontinued his pursuit of the skier. According to the spokesperson of the county gendarmerie, Ion Zaharia, no one was injured.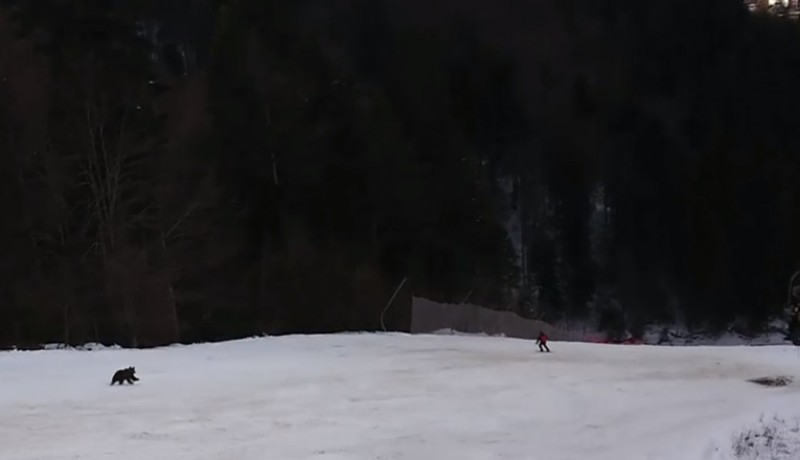 On the same day, skiers at the resort received two phone alerts due to the presence of bears on two different slopes. The slope the young man was chased on was, in fact, closed that day. The gendarmerie may remove and relocate the animal, which is the normal procedure for animals that appear often near ski resorts.
A similar incident happened last week at the Kelebucs (Clăbucet) ski slope at Predeal when a bear cub wandered onto the slopes. According to the spokesperson of the gendarmerie, while it may seem that bears visit ski resorts very often and this type of incident is becoming more frequent, they have had to scare off less big game this year than in previous years.
Title image: The Kelebucs (Clăbucet) ski slope at Predeal ski resort