Issues
25 sheep killed by wolves in Székelyföld
Sheep were attacked by wolves on Sunday in Csíkszentdomokos/Sândominic and altogether 25 animals were slaughtered and another 10 were wounded. The estimated damage is about 5,000-6,000 Lei (1,050-1,250 EUR). Attacks on this scale haven't happened in the area in the last three years.
The slaughter was committed by two wolves between Csíkszentdomokos and Balánbánya/Bălan, in Hargita/Hargitha county. Csíkszentomokos mayor, Róbert Karda said to Székelyhon, that it was the biggest attack of this kind in the past three years. According to the mayor the farmer from Balánbánya saw on Sunday that two wolves attacked his herd of 150 animals. The attack was immediately reported to the Csíkszentomokos Mayor's Office because of two reasons: the animals are registered with the veterinarian of that settlement and because the attack actually took place on the territory of Csíkszentomokos. According to the council's request a damage assessment committee also visited the site on Monday, and after hours of investigation they ascertained that 25 sheep were killed by the wolves and also further were injured which are under treatment now, and people are trying to save their lives. The event was also reported to the Mayor's Office officially in the hope of compensation.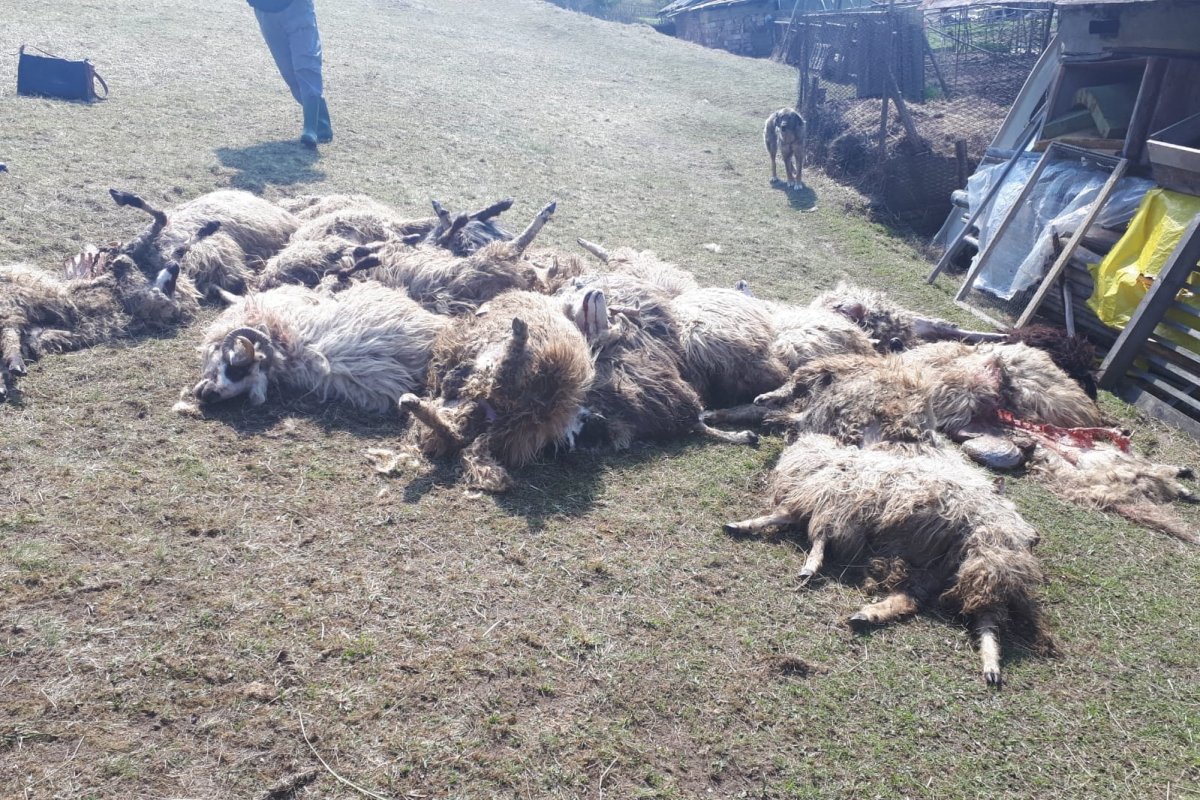 According to WolfLife Project, the first official and comprehensive study about the wolf population of the Eastern Carpathians made in 2019, some 300-350 wolves live in Hargita County. The habitat of these large carnivores has been continuously shrinking in the previous decades and as a result of the land restitution (after 1991 lands and forests were returned to the previous owners or their descendants in Romania) forest fragmentation further divided the large intact contiguous forests into smaller separated parts.
WolfLife Project experts also said in their study that the estimation of the wolf population of Romania has always been very deficient and inaccurate. While in 1990 the estimated population was about 25,00 in 2013 in the report of the European Commission the number rose to 3,560-3,970. But three years later – in 2016 – the Romanian Ministry of Environment estimated the number of wolves only to 2,840.
According to László József Domokos, leader of Hargita County Environmental Agency, the wolf Romanian wolf population peaked at around 8,000 in the 1950s and most of them were exterminated during the 70's. Recent estimations say about 3000 wolves live in the country.
Titled image: Grey Wolves (photo: illustration)