Politics
16 EU countries forego extra Moderna vaccine due to slow delivery
A total of 16 EU countries, including Romania, did not order as many doses of Moderna vaccine as they could have, according to a two-page document shared by the Hungarian Prime Minister's Chief of Staff, Gergely Gulyás, Politico reports. Romanian authorities have not made any official comment on the matter so far, but a government source told Hotnews.ro that Romania is going to receive over 6 million doses of the Moderna vaccine in the third and fourth quarters of the year in any event.
Gergely Gulyás posted the delivery schedule and a two-page document from the EU's purchasing agreement with vaccine producer Moderna on March 6, 2021, via Facebook, after opposition parties blamed the Hungarian government for not buying enough Western vaccines and buying Russian and Chinese vaccines instead.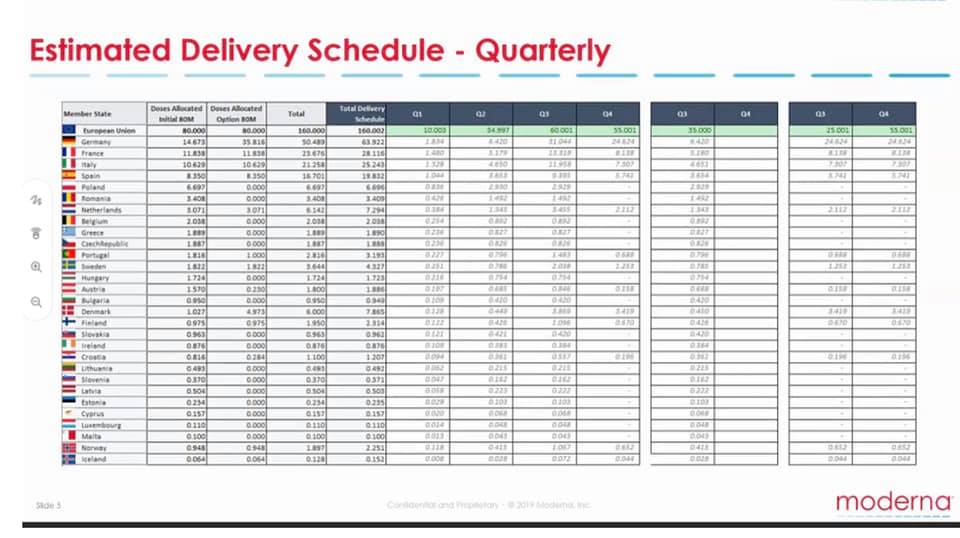 According to the document, the 16 countries opting out of the vaccine top-up are: Poland, Romania, Belgium, Greece, the Czech Republic, Hungary, Bulgaria, Slovakia, Ireland, Lithuania, Slovenia, Latvia, Estonia, Cyprus, Luxembourg and Malta.
The minister also confirmed in his post that the Hungarian government did not purchase as many Moderna doses as it could have because the doses would have arrived too late in 2021 — at the earliest, in the third quarter. "By that time, thanks to other purchases, the number of doses needed to vaccinate the entire (Hungarian) population above 18 years old will be available," Gulyás wrote. Instead, the Hungarian government stuck with its initial order for 1.7 million doses of the American vaccine.
Similar situation for Romania
The situation seems to be the same for Romania. It looks like the Romanian government decided to order fewer doses of Moderna than would have been available for the same reasons.
A Romanian government source told Romanian news portal Hotnews.ro that some 6 million doses of Moderna will arrive in Romania in the third and fourth quarters of the year, so there was no need for the additional 3 million doses that would only arrive late anyway. "The authorities did not consider that these would be absolutely necessary," Hotnews quoted its source.
In his post, Hungarian Minister Gergely Gulyás also blames the company for being too slow in its deliveries, writing that "the actual fulfillment of the contract is progressing worse than the original schedule." Politico seems to confirm this statement by mentioning that Moderna's deliveries to the EU ran short throughout February, sometimes by as much as 25 percent in one week, while the company's spokesperson said Moderna "remains on track" to meet its quarterly targets.
Title image: A dose of Moderna COVID-19 vaccine. (AP photo)