Szeklers
Fools' Olympics won by Székely Titanic
The ninth Fools' Olympics took place at Hargitafürdő/ Harghita-Băi last Saturday.  The whole event – having competitions like "uphill wife-carrying" or "Helium declamation" contest – is based on the famous Székely humor, but no doubt that the most popular among all of them is the race of the homemade Fool Sleds,  won by the Székely Titanic team this year.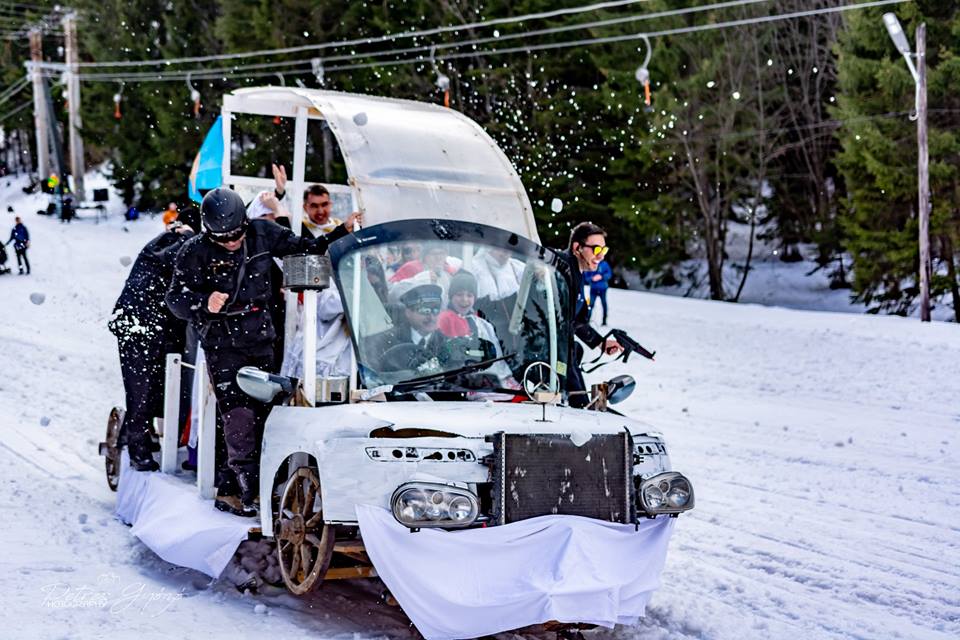 Hundreds of people gathered at the Csipike-slope in Hargitafürdő on a sunny Saturday afternoon, on 9. March and instead of skiing, tourist cheered for imaginative and funny Fool Sleds. At the event – jointly organized by the Harghita Community Development Association, the Commonage of Csíkcsicsó/Ciceu and the City Council of Csíkszereda/Miercurea Ciuc – eleven teams were registered to the foolish race with their homemade sleds made from tubs or turned into tanks, boats, or popemobiles. According to an old habit of the visitors – dating back to the very beginning of the Olympics – each team receives a heavy snowball attack during their slide. However, it turned out that some participants were not fully prepared for this and after the race declared that they should have covered up their vehicle more to protect themselves from the snowballs.
The largest team – consisting of 37 members – arrived from Csíkmadaras/Mădăraș and they were also the ones to win first price with their Székely Titanic vehicle. The team built such a big ship because they wanted as many of their people to participate at the event as possible. This was also the reason why they even had some lifeboats. The ship was named "Székely Titanic" because team members felt they had a much higher chance crushing into the woods than into an iceberg.
No question that this year's biggest event in Székelyland will be the Papal visit, and it's premonitory signs were already shown in Hargitafürdő on Saturday where two Popes were racing in their popemobiles. Last year's winning team – coming from Madéfalva/ Siculeni – even provided some armed guards and soldiers for one of them protecting him from the snowball attacks. For this original idea the Madéfalva team received a special award. One of the team members, Antal Szentes – after funnily introducing himself as Pope Antal I. – besides all the jokes wanted to share some serious message as well: "We think that Pope Francis's visit to Csíksomlyó/Șumuleu Ciuc will be a unique and defining event, and with our presence we also would like to encourage people to believe in God and to follow his teachings"- he said.
At the end of the day, president of Harghita Community Development Association Zsolt Mezey, main organizer of the event said that "each year we have more and more visitors and competitors who are preparing incvreasingly serious vehicles for the race."
Title image: Winner of the 9. Fools' Olympics: Székely Titanic. (9. March 2019 – Hargitafürdő) (Photo: Grand Day Foto&Video Facebook)