Arts, Food & Free Time
An artist's homecoming – Tünde Darvay
Influenced by the unique rural landscapes of Transylvania, the place where she was born, the paintings of Tünde Darvay live in the twilight zone between the organic and the inorganic. Her aesthetic worldview is profoundly mythical: it depicts a world in which color breathes life into inanimate things in order to conjure up playful, suggestive associations along a broad spectrum of themes and forms.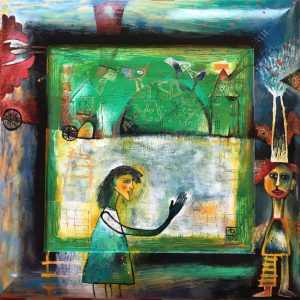 Houses have smiling or grinning doors, cheerful, winking, or teary windows, depending on their moody personalities. Chimneys protrude as if they were limbs. Trees hold hands and dance together, witnessed by the curious glance of birds, cats, and fish from behind the bushes. Winding roads follow their spiral course, according to their own precarious will. Color and composition jointly intend to disclose the immense network of cobwebs connecting all these things together, making them part of a highly sensitive organic universe in which every tiny quiver is perceived even in the remotest corners.
In order to achieve this aesthetic effect in her paintings, she continuously strives to blur the spheres to which traditional imagination usually confines things, whether living or inanimate, significant or trivial. Her uniquely shaped, handmade wood frames do not enclose, but rather extend her works. They invite her compositions to spill over into the fantasy of the beholder. Line and color give shape to things that surface from her memory, but also beg to live on and be part of the lives of her audience. She seeks to paint birds that uniquely embody all birds, houses that somehow envision all houses, and colors, that include all the colors from dawn to dusk.
Children have always been especially responsive to her work. Maybe because they still possess the intuitive understanding of such a universe in which everything is connected. After all, who is to tell when childhood ends?   – Tünde Darvay asks herself.
TN: Bohemia – A few steps above the world, this is the title of your latest exhibition in Kolozsvár, Korunk Studio Gallery. Why? Is the artist by definition always a few steps above & ahead of the world in order to allow herself to be inspired, to be able to create?
When I started putting together this exhibition, I realized that everything about these recent works is suggestive of an unconventional lifestyle and the overstepping of traditional boundaries that govern everyday life. My paintings show a quirky world in which figures defy gravity and fly about in the whirlwind of this colorful and whimsical universe where everything can happen. These figures often express what is deeply hidden or repressed in each and every one of us: a desire to get away from the dullness and the monotony of reality. The drabness of conventional existence can turn us all into wannabe bohemians, and the artist is perhaps special because s/he has the ability to give expression to this desire more than others. In this sense, the artist is, indeed, a few steps ahead of the world, but it is also true that the work of art tends to live a life of its own and have unintended effects to inspire the viewer in various ways.
TN: What are your recurrent themes? Your artistic world is very coherent. Anyone would distinguish your works: this is a Darvay Tünde painting. Blue and green are you key colors. Why?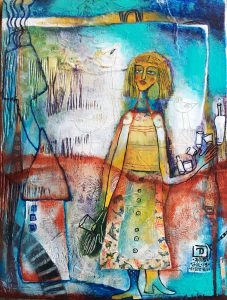 Recurrent themes include mythological stories, interpersonal relationships, the relationship between the human and the animal world, but also anything that captures my imagination, including books, movies, popular culture, personal stories shared by friends, and so on. Those who distinguish my works usually notice the unique, handmade wooden frames that complement and continue my compositions, and serve as extensions of other compositional elements such as line, shape, theme, and color. Blue and green might dominate at times, but I also work with a broad palette of colors, and the intensity and saturation of my colors might also make these paintings stand out for the viewer.
TN: What does charge and inspire you as an artist?
In addition to the broad range of things that capture my imagination every day, I also get inspired by great artists such as Hundertwasser, whose colorful spirals seem to unlock the mysteries of the world; the dazzling fantasy worlds of Marc Chagall; and Pieter Bruegel, whose detailed genre paintings made me visit the Kunsthistorisches Museum in Vienna several times. The list could go on, of course. Also, like many other artists, I, too, feel charged and inspired by artist talks, workshops, collaborative projects, and art camps. The networks of art are extensive and far-reaching in today's global world.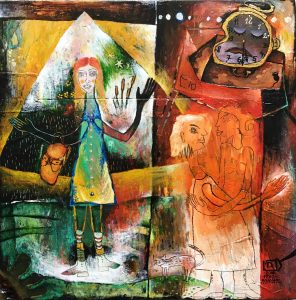 TN: Why did you leave Kolozsvár and mainly: why did you return after 13 years of living in the US? Is there a difference between the US perception of your art and the one at home? How does Kolozsvár inspire you?
I left Kolozsvár after I received my B.A. at the University of Arts and Design, and joined my husband in the U.S., who had just started a PhD program at the University of Oklahoma. I worked as a professional artist there, so I had the chance to participate in numerous individual and group shows, and made lots of friends in the local art community. I am happy to continue the same here in Kolozsvár ever since we came back last year. There is no substantial difference between the U.S. perception of my art and the one here; in both places, people tend to approach my work with an open mind. The squinting houses on some of my paintings, inspired by Transylvanian Saxon architecture, were an oddity of sorts to an audience used to skyscrapers. Both places have their cultural idiosyncrasies, of course, and my long stay in the U.S. has also shaped me and my artistic sensibility, as I tried to bring a bit of Transylvania to the U.S. and now a new world back to Kolozsvár. After 13 years, I think this city has become more cosmopolitan and perhaps even more inspiring to an artist like me. Regardless of where I live, I try to find the moments in life that capture my imagination and inspire me to create my own fantasy world on the canvas.